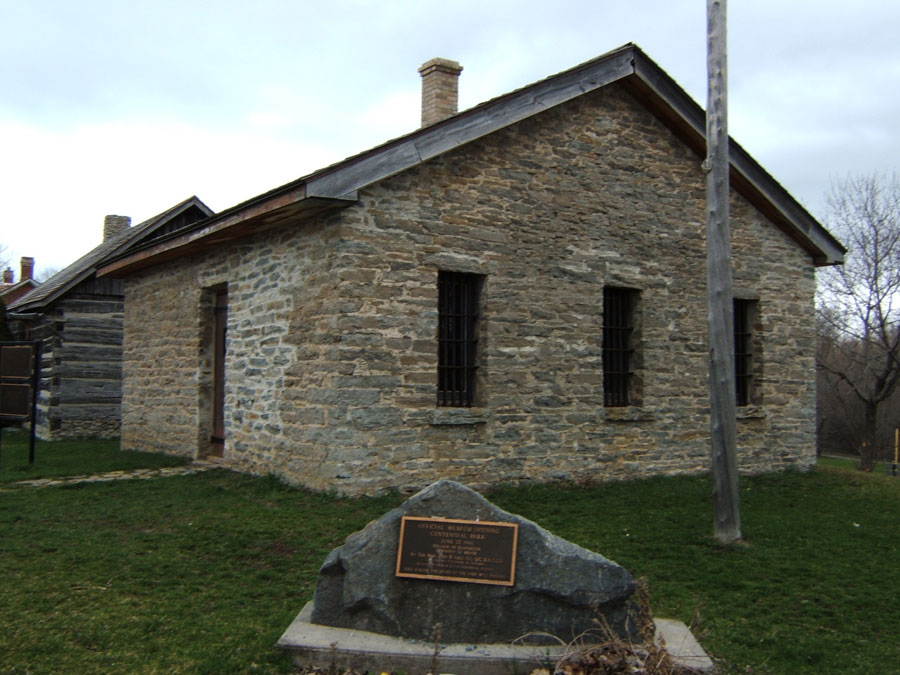 Volunteer guides are on hand to show you through the buildings. For group tours and special programs please book in advance.   The museum is open from May Victoria Day Weekend until the end of September.  You can visit on the weekends, including holiday Mondays,  in May, June, and September and from Thursday to Monday (Closed Tues.-Wed.) during July and August . The hours are 1:30 – 4:00 p.m.
Old Stone Jail

The latest building to be moved to the complex (this time without any government funding) is the Old Stone Jail. It was relocated in 1995 from the downtown area (to escape demolition), making way for a new TD Bank (now TD Canada Trust).

Log House c. 1850

The settlers' log house depicts life in the earliest days of our community. The summer kitchen add-on is furnished at a little later period to show life when stoves had replaced fireplaces for cooking and a few kitchen gadgets had come into use. The second storey has a display of pioneer tools and small farm implements.

Gift Shop

A Gift Shop operated by volunteers is located in the basement of the log house. It offers hand-made crafts (quilts, knitting, Christmas crafts, baby presents and other unique items) and goodies (jams, pickles, honey).
Open: July & August – Thurs., Fri., Sat., Sun., 1:30-4:00 p.m.; Sept. – weekends, 1:30-4:00 p.m.
Brick House

Life at the turn of the century is portrayed in a two-storey brick house.

The Meeting Place
The Meeting Place houses the office, storage areas, archives, and a meeting hall. A bell tower and new roof were added in 2005.